There was a very unusual place when the world was still brimming with magic._ Within the heart of all this magic, lived a phenomenal boy named, Liam the Curious._ There was a cornucopia of additional names bestowed upon him over the years by a diverse hodgepodge of individuals he encountered in his extraordinary life, some mortal, some not. When he was home, which wasn't as often as his parents hoped, he lived in a modest stone castle called, Skye Dragon, with his mum and dad and a castle-bound cat named, Fionn McCoul. Together they lived, right at the edge of the Enchanted Forest.
Helena Abigail Murphy was my Irish Granny. Although I had never met this amazing lady, my mother told me many stories about the magic she wielded, even in this modern day. Two weeks after my Granny died, I received a large parcel in the mail from Irelad. I wondered, when I read the card inside the package.
To my darling Granddaughter, blood of my blood, in the hopes that the tradition of magic carries on. Of all things I could give you, this is the most precious. You will know exactly
what to do with it.
With much love, from your Granny.
Questions rattled my brain._ Did she know she hadn't much time?_ What did she send me that was so precious?_ And what is this about magic?_ Much to my surprise, the package contained small wooden chest._ It looked ancient._ On the lid, in a circle, was carved a dragon._ Within the circle of the dragon were a crescent moon and a five pointed star._ I traced the beautiful images with my finger._ When I opened the lid, I was surprised to see an old battered book._ It was bound in leather and embossed with the very same image as the chest and looked to be hundreds of years old._
<![if !vml]>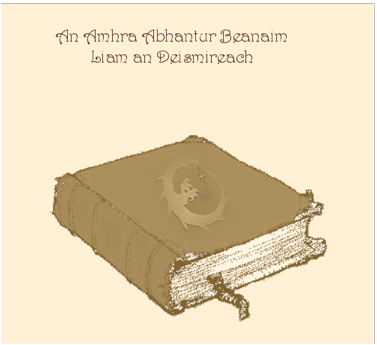 <![endif]>
I carefully opened the book._ On the first page, in large letters, was this:_ An Amhra Abhantur Beanaim Liam an Deismireach._ As I started to read, I realized this was a journal, a very old journal, and on these pages were revealed, the adventures of Liam the Curious, by his own hand._ Perhaps she sent me the book because she somehow knew I would be the one to share these stories._ Perhaps she knew that out of all my family, I was the one that believed not all magic has gone from this world. I will never know for sure, but I do know this._ Much of magic is sustained by belief._ And if sharing these stories will perpetuate magic a little farther into the hearts of mankind, than I have understood why she send the book to me.
Liam was born during a rare conjunction of the planets Venus, Mars and Jupiter in Leo._ It's sagacious to assume that this was not the only reason Liam spent so much time in the forest, and why adventure, as if it were his destiny, pursued him like an evening shadow, and one fascinating episode followed another._ Stars are not the answer to everything._ Courage, integrity, and honesty were just three characteristics that belonged to Liam that had a significant effect on his escapades, and also, what made Liam someone endeared by everyone, well, but for the trolls and the goblins, and that enormous giant….